This application is a free basic image editor, similar to Microsoft Paint, but aiming at the GNOME desktop.
PNG, JPEG and BMP files are supported.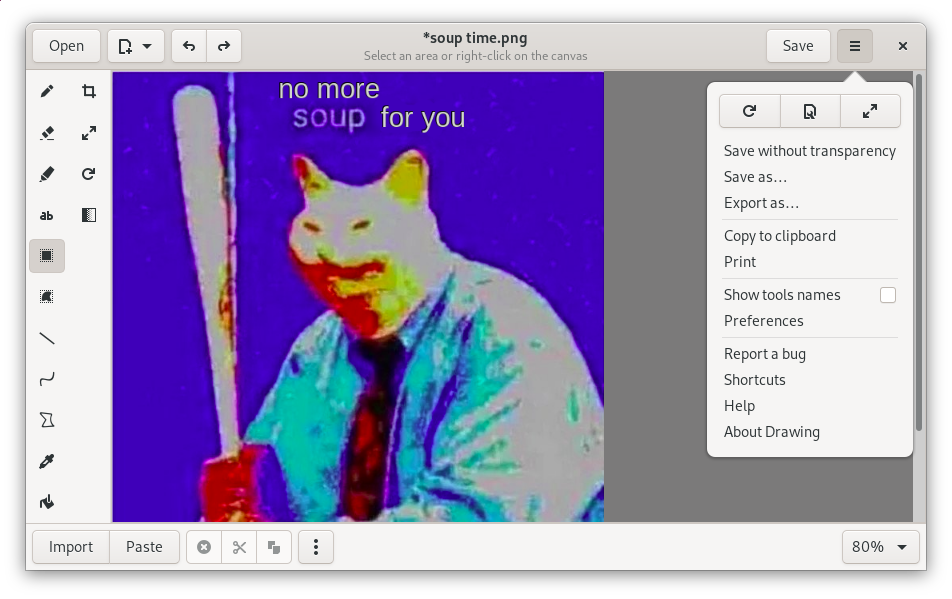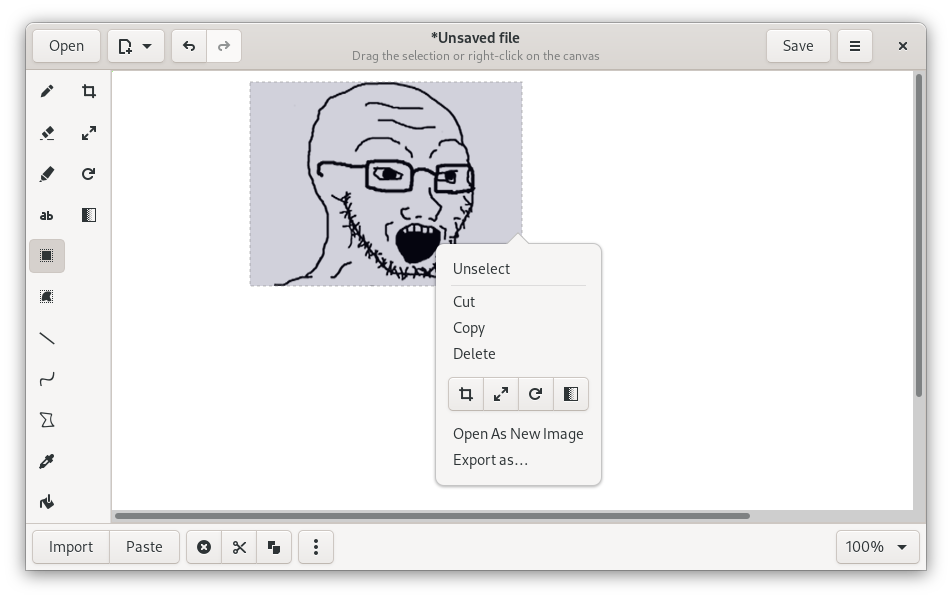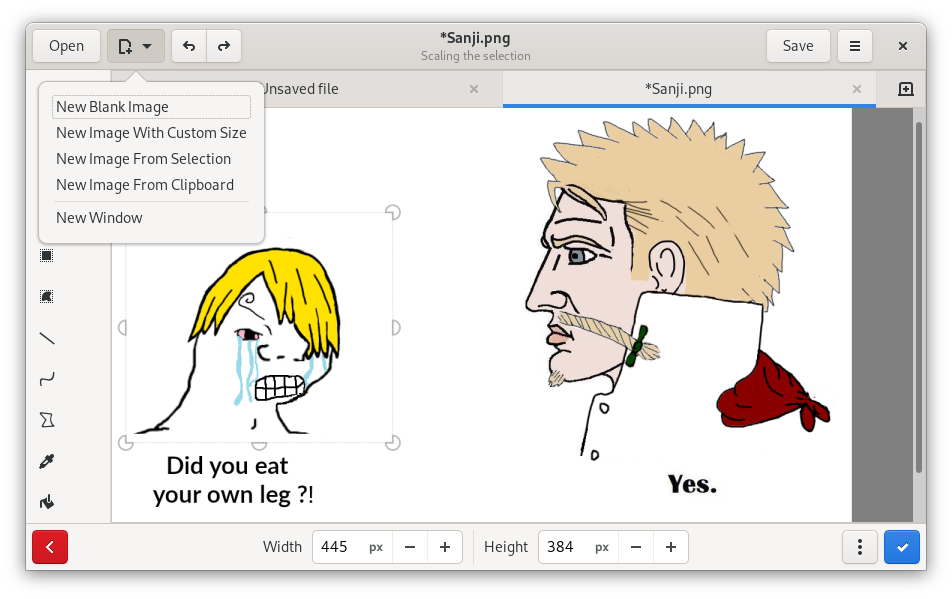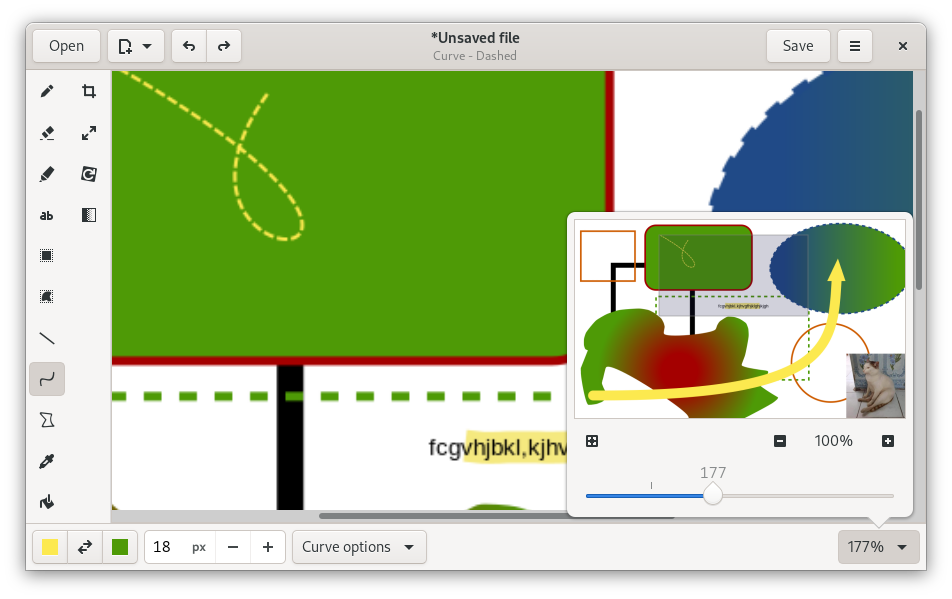 More traditional design user interfaces are available too, as well as an elementaryOS layout. The app should also be compatible with GNU-Linux smartphones. For more screenshots, see the gallery.
Installation
The recommended way to install the most recent version of Drawing is to use flatpak:
(version 0.6.5)
Permissions required: ipc/x11/wayland
The app is also available as native packages in the repositories of the following distributions:
You can use the package manager of your distribution to install the package drawing.
Alternative installation methods for Ubuntu :
---
Gentoo package from an external overlay
What's new
New features in version 0.6

Drawing 0.6.5:

fix unexplained regression of bottom panes responsiveness
mitigation of the "very quick series of ctrl+b" bug
disable importing or opening an image using drag-and-drop with flatpak (it was broken)
fix printing
more pertinent movements of the view when holding and moving the middle-click

Drawing 0.6.4:

add more keyboard shortcuts
slightly better "erase and replace" algo for the paint tool
better handle attempts to open webp images
better handle attempts to open incorrect file types
remember the value of the antialiasing option

Drawing 0.6.3:

use submenus for the "tools" menu in the menubar
fix arrows' heads when the line was semi-transparent
fix arrows' heads with specific angles (#286)
fix arrows' heads when the line had a square end
add option for double-ended arrows
add more options for dashed lines
support for older distributions (pygobject older than 3.30)

Drawing 0.6.2:

add keyboard shortcuts for increasing and decreasing the tool width
ensure all features are available with all layouts (e.g. "reload" with Cinnamon and eOS)
suggest to reload when the file has been saved without transparency
new 'copy to clipboard' action
new "paint over the entire image" option to the paint tool
fix Debian Buster (and PureOS Amber) support
add option for the 'highlighter' tool to highlight on dark background

Drawing 0.6.1:

new 'save without transparency' action, that works with PNG
add 'initial color' as a replacement for transparent pixels
fix a bug in the 'rotate' tool that occured when the selection was flipped before being rotated
add the additional tool 'points', to help captioning
update the user help manual

Drawing 0.6.0:

remove the "windows" menu from the menubar
refactor bottom panes management to allow several tools to share the same pane
rectangle selection, freehand selection, and color selection, are now distinct tools
the 'rotate' tool now handles horizontal or vertical flipping
the 'rotate' tool now supports any angle when rotationg the selection
tools producing shapes (circle, rectangle, polygon, …) are merged into a single 'shape' tool
"close shape" action for the 'shape' tool
"close selection" action for the 'free selection' tool
replace the 'saturate' tool by a new 'filters' tool
add several types of blur to 'filters'
add color inversion, pixelization, partial transparency to 'filters'
add "additional tools" section to the preferences window
add specialized types of pencils (eraser, highlighter) as optional tools
a fullscreen mode is now available
zoom in (or out) using the minimap, the touch gestures, the mouse wheel, or keyboard shortcuts
move the "color application mode" selection to the colors menus/popovers
add "antialiasing" option to several tools
fix how the canvas is displayed on HiDPI screens
warn the user when they try to save despite the current operation not being applied
rewrite the user help manual
Tools
Tools to draw:
Pencil
Eraser*
Highlighter*
Insert text
Points*
Shape

Rectangle
Rounded rectangle
Circle
Oval
Polygon
Free shape

Line & arrow
Curve
Color picker*
Paint*
*these tools are disabled by default.
Tools to select a part of the image:
Rectangle selection
Free selection
Adjacent color selection*
Tools to transform the canvas or the selected area:
Crop
Scale
Rotate & flip
Filters

Blur
Pixelization
Saturate & desaturate
Add transparency
Invert colors
(last update of this list: version 0.6.5)
Available languages
Basque
Brazilian portuguese
Castillan
Croatian
Chinese (simplified)
Chinese (traditional)
Danish
Dutch
English
Finnish
French
German
Hebrew
Hungarian
Italian
Polish
Russian
Swedish
Turkish
Credits for these translations are available here and in the app's "about" dialog.